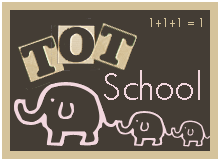 Jonathan is 25 Months
We had a busy, social week! We had a couple playdates, which we always enjoy. On the days we weren't out and about, we also began to focus on the lowercase letter b. This week we looked at
bears
,
bananas
, and
buses
.
Bible
We focused on John 6:48 I am the bread of life from the
Songs for Saplings
CD. You can print out
resources
from the Totally Tots website. I am always so amazed and encouraged to hear Jonathan singing along! He had a lot of fun banging the cymbals along with this song.
Books
This week, we read several books. Here were our favorites (click on the title to see the post):
-
Brown Bear Brown Bear, What Do You See?
by Bill Martin Jr.
-
Banana!
by Ed Vere
-
The Wheels on the Bus
by Ed Zelinsky
- T
he Seals on the Bus
by Lenny Hort
Math
We worked more on counting. We counted some bananas I printed and laminated and we also used our
counting bears
:
Games & Fine Motor Skills
We did a
Heads & Tails puzzle
along with Brown Bear, Brown Bear that I printed from 1+1+1=1's Brown Bear tot pack.
We also worked on our
Melissa & Doug Basic Skills Board
- a puzzle that Jonathan enjoyed, but he's still not very proficient at all the clothing items.
And we did our
Melissa & Doug Upper & Lowercase Alphabet Puzzle
. Jonathan's pretty good now at recognizing the lowercase letters a and b!
Music/Pretend Play
We did more
bear hunts
this week-- along with lots and lots of renditions of the
Wheels on the Bus
!
We reenacted Brown Bear Brown Bear using the
templates
on DLTK kids. We listened to the
audio book
read by Gwyneth Paltrow.
And we reenacted the Seals on the Bus using the fun
template
from Making Learning Fun. Jonathan had fun matching the laminated animal card to the animals in the book.
Art
We did yet more Do-A-Dot pages for
B is for Brown Bear
, and
B is for Bus
. Jonathan loves these!
We worked on using a glue stick as we glued paper fruit (bananas) into a fruit basket:
This was the first time Jonathan used a glue stick. He did well when I helped him turn the pieces over- he patted them on the paper very gently. Afterwards he just liked spreading the purple glue- it didn't matter which side of the paper- he just liked spreading the glue. I guess he just enjoyed the process!
Social
As I mentioned, we had a couple of playdates this week. It's great practice on sharing. Jonathan has began a "mine" stage-- every toy is
his.
He may not be playing with it, but if a friend shows interest, suddenly the toy is
mine.
He obviously still has a lot to learn about sharing-- it won't be long before Gracie is trying to play with his toys.
So-- question for other moms:
how do you help your tots learn to share? How do you address the heart issue behind not sharing while still understanding that your child is young and it's a hard concept to grasp?
This post is linked up to
Tot School
at 1+1+1=1 and
What My Child is Reading
at Mouse Learns, Mouse Grows.