Sign Language
We reviewed the sign for
ball
as well as signs for different sports (baseball, football, basketball, soccer). We watched the Signing Time DVD "
My Favorite Sport
" which covered each of those signs.
Books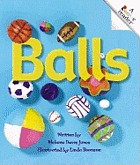 Balls
by Melanie Davis Jones
I chose this book for Jonathan because it was Rookie reader, without a lot of text. I liked that it talks about what different balls can do. The illustrations, as one Amazon reviewer noted, are kind of a strange claymation. (Think Bert & Ernie's Great Adventures). But Jonathan still enjoyed this book and picked it up to read it again. He also had fun matching his balls to the balls pictured in the book.
Yellow Ball
by Molly Bang
This was by far our favorite book. It's a really sweet story about a yellow ball that is left at the beach and swept out to sea. The story recounts the adventures of the ball until it eventually safely washes to another shore and finds a home. The story is told in very few words but dramatic pictures. Jonathan
loved
the story and wanted it read several times in a row. He was engaged and would even shout "Watch out ball!" during one particular scene. This book was so much fun to read together! It is part of the Before Five in a Row homeschool curriculum and there are several online resources for the book. It's too bad it's out of print- but fortunately our library system had several copies!
Froggy Plays Soccer
by Jonathan London
I found this book at our library booksale and snatched it up based on our
enjoyment
of a previous Froggy story. I wasn't disappointed- we enjoyed this one equally as well. In this story, Froggy is playing in a soccer tournament-- his dad coaches him to use everything but his hands-- will Froggy remember? Jonathan has really enjoyed this silly frog and loves any story involving sports!
Motor Skills
It's still been fairly cold outside and since we are still recuperating from RSV, so we haven't played outside much.
We played with a lot of balls, of course! Daddy is particularly helpful with this-- Jonathan loves wrestling and playing with daddy. His basketball hoop is a constant source of fun. He's getting pretty good at catching and making baskets.
I also brought his wading pool inside and filled it with all sorts of different balls: our 100 color balls, kick balls, sensory balls, small sports balls... you get the idea! He's had a lot of fun swimming through the balls. We've also played a game where daddy or I hide a couple small toys in the bottom of the ball pit and he tries to find them. It's another good way to exert some energy!
Jonathan in the ball pit
Gracie got into the ball playing too!
Music
We sang
Take Me Out to the Ball Game.
We also enjoyed a song "the Basketball Dance" from the Kimbo CD Circle Time Activities.
Math
I found some foam ball shapes on clearance at JoAnn fabrics. There were a dozen different sports ball shapes (baseball, football, basketball, soccer). I attempted to have him try to do a pattern with the shapes- but he was much more interested in just trying to throw the balls around. Massive fail-- but he had fun.
Art
Ball Painting
We did some ball painting inspired by an idea I found on
No Time for Flashcards
. It was a super easy craft. I put paper in a shoebox along with yellow paint and a bouncy ball. I had Jonathan tip the box to roll the ball through the paint. It turned out ok, but Jonathan was more interested in playing with the ball than painting!
Stickers
I also found some assorted ball stickers at Michaels in the dollar section this week. Given Jonathan's enjoyment of stickers and glue, I let him place the stickers on a lowercase b. He enjoyed this craft a little more than the painting.
Library Links-
Balls
Froggy Plays Soccer
Yellow Ball
Kimbo Music-
Circle Time Activities
CD
Signing Time-
My Favorite Sport
DVD
Web Resources
B is for Ball
@ First School
B is for Ball
@ Toddler Approved!
Yellow Ball Lesson
@ Delightful Learning
Yellow Ball Resources
@ Homeschool Share