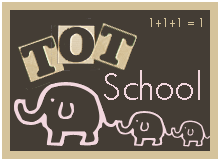 Jonathan is 25 Months
We had a lighter week this week, since we were out of town visiting family. But we did manage to fit in a few activities.
Books
In anticipation of our focus on the letter b next week we read a couple books on bears: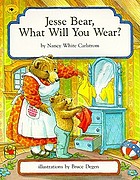 This is another book that we own and love. It's a book that is part of the Before Five in a Row curriculum so there are a lot of great web resources out there for having fun with this book. I love the close relationship that Jesse Bear has with his family. Jonathan's favorite part of the book is the page where Daddy bear comes home. You can see from the book how excited Jesse is to see his daddy and I think Jonathan can relate to that. It's such a cute read that we've enjoyed very much!

We've owned this book for a while, but Jonathan wasn't interested in it before this week. It's another version of the traditional children's camp song with some new sounds added to the story. We listened to the Greg & Steve version of the song (see below) and suddenly, this book really came to life for Jonathan. It's a new favorite in our house!
Music
Back during my brief stint as a daycare teacher, the toddlers I taught loved the song "Going on a Bear Hunt" from the CD
Kids in Action
by Greg & Steve. We checked the CD out of our library and Jonathan loved the song just as much as the kids I taught. He had so much fun pretending to cross fields, rivers, and climb trees and loved running around at the end. Here's a YouTube video featuring the song:
Movies
We enjoyed watching a couple Cedarmont Kids DVDs: Bible Action Songs, Bible Songs, and Sunday School Songs. They were part of the
Cedarmont Platinum Bible Collection
. Jonathan's great grandparents really enjoyed these music videos too-- and the fact that Jonathan was singing and dancing along!
Gross Motor Skills
We played with Jonathan's ball pit. Nana and Papa have an inflatable wading pool that Papa was nice enough to blow up. We threw in a set of
100 balls
and just let Jonathan have at them. It was a lot of fun for him!
The weather was also nice enough earlier this week that we were able to go for a walk down Nana's drive and we went to the barn to look at the horses and kitty cats. Jonathan loved being able to walk and see the animals! Too bad it's still cold back home.
Math
Jonathan's great grandfather enjoys wood working and makes lots of different wooden animals. There are a set of wooden bunnies in Jonathan's toy box and Jonathan had fun taking them out, lining them up and counting them.
Art
We did some more work in our
Kumon Let's Color! Workbook
. He really enjoys this little book and he's progressed from scribbling to being able to make dots and lines-- its great pre-writing practice!
We also took his balls (which come in 6 colors) and sorted them by color.
Miscellaneous
Jonathan's also been learning how to use my iPhone this week. I purchased the
Teach Me Toddler
app which reviews letters, numbers, shapes, colors, phonics and counting. I showed it to Jonathan for the first time this week and he loves it. I like that I can customize which skills I want him to work on and see a summary of which questions he gets correct and which ones he struggles on. It's a great app and I think it will be very handy!
This post is linked to
Tot School
@ 1+1+1=1 and
What My Child is Reading
@ Mouse Grows, Mouse Learns