Sign Language
Banana
was among of the first signs we learned.
Books
I only found one toddler friendly book about bananas- if you know of any others please let me know!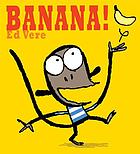 Banana
! by Ed Vere
This book is a simple story about two monkeys and one banana. The storyline is mostly told by the simple pictures and the expressions on the monkeys' faces. One monkey finds a banana and then his friend comes along and wants the banana. Will the monkeys share the banana? The only text in the story are the words "banana" and "please". It's up to the reader to put the proper inflection on the words, similar to Jez Alborough's Hug.
Jonathan loved this story. I think
any
toddler can relate to the plot-- one monkey wants the banana, one doesn't want to share. There's even a tantrum/melt down until the monkey in red learns to say
please
. This is a book Jonathan kept coming back to and asking me to read it again.
I like that the book has a good lesson-- the monkeys learn to ask please and the monkey that threw the tantrum learned that the tantrum did not produce the results he desired. Tantrums occur off and on around here-- so it was good to reinforce that the monkey had to "use his words" and ask for what he wanted. :) This is a great toddler-friendly book.
Pretend Play
We acted out the story using our playfood banana. I had Jonathan be the monkey in the red shirt and ask please in order to get the banana. Very simple activity, but it reinforced the book nicely.
Snack
We ate bananas (surprise, surprise!) for snacktime and then the next day we made banana pancakes for breakfast. Made me think of the Jack Johnson song. We also had a banana snack cake that was yummy!
Craft
We printed out the
fruit basket
craft from First School. I cut out the pieces and then let Jonathan try to glue them onto the fruit basket.
Math
I printed and laminated extra pieces from the fruit basket craft to practice counting bananas. You could also go to the grocery store and count how many bananas are in each bunch!
Games
We don't own this, but this
Avalanche Fruit Stand
game by Learning Resources looks great for fine motor skills. You could also use the pieces as counters and math manipulatives. It also would be versatile for other fruit related themes!
Library Links
Banana
!
Web Resources
B is for Banana
@ First School