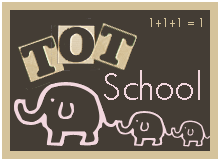 Jonathan is 26 Months
We got off to a great start this week, but got sidelined by RSV. Grace had RSV last week and Jonathan came down with it Tuesday night. So most of our week was spent on the couch watching lots of Leapfrog movies (Jonathan's current favorite).
But, here's a summary of what we did at the start of the week: we talked about balloons and bats!
Bible
We continued to review the verse from Songs for Saplings.
Books
Here are a few of Jonathan's favorite reads from the last week (click on the link to read our review)
Motor Skills
We played with balloons, pushing them in baskets:
and playing basketball:
Art
We did lots of art this week. We painted with balloons:
and did some work with glue. We glued shapes on a picture of a balloon:
and made a bat:
Math
Several of the books we read this week focused on counting 1-10. So as we read the books, we practiced counting. I also made a little game for him by printing out pictures balloons in different colors. The balloons corresponded with the book
Too Many Balloons
. I don't have any pictures, but he had fun laying out the balloons.
One of the art projects we did involved shapes and Jonathan did a great job naming and matching the shapes!
Jonathan enjoyed watching Leapfrog Ocean's Ahoy, Math to the Moon, and Math Circus while he's been sick.
Practical Life
We worked on dry pouring this week. We used black beans:
It quickly turned into a sensory exercise!
Snack
Jonathan's throat was sore at the end of the week due to our bought of RSV, so I made him
Blueberry Banana Smoothies
. I really enjoyed them- but my picky eater wouldn't even try them. (sigh.) What kid doesn't like smoothies?
So, Jonathan came down on Tuesday night with a severe case of croup that sent him & daddy to the ER. The diagnosis was RSV (Grace had RSV towards the end of last week). Thankfully, he started to gain his appetite back today, so hopefully we're on our way to recovery. So next week we'll hopefully finish our "b" activities with balls and boats! Then we'll finally be on to c!
How our week finished up
Question for other Parents: what toddler-friendly movies would you recommend? Jonathan's been wanting to watch his Leapfrog movies over and over again. Are there other movies you would suggest? What about feature length movies? Are there some that would be appropriate for a two year old? I'd love to have some ideas to vary things up a bit next time.