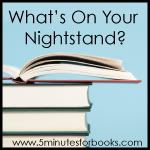 I love reading children's books to Jonathan and Grace-- but mommy needs some reading time too! It's hard to find the time sometimes, but here's what's on my nightstand. I don't generally review the adult books that I read, but let me know if you'd like to hear about any of these. I try to have books going in many different categories... so here they are (links are NOT affiliate links):
Faith
The Message of Joel, Micah & Habakkuk
by David Prior-- I'm studying Micah right now in my quiet time and I'm reading this commentary along with Micah. I've liked past books that I've read in The Bible Speaks Today series. I'm only on Micah 2, but so far, so good!
Treasures of Encouragement: Women Helping Women in the Church
by Sharon Betters. I've been meaning to read this one for a while. I picked it up off of some recommended booklist somewhere. Encouragement/mercy is
not
one of my natural gifts, but it's one I would like to develop.
Family
The Blessing
by John Trent & Gary Smalley-- This is a parenting book about giving your children the gift of unconditional love and acceptance.
Warrior Prayers: Praying the Word for Boys When They Need it the Most
by Brooke McGlothlin-- I've been really burdened to be praying for both my children and I'm excited to join the
21 Days of Prayer for Sons
in a few weeks. I'm praying for my son and future son-in-law. ;)
Home
Taste of Home 2010 Annual Recipe Book
- my mother-in-law just gave me this book. I love all the TOH annual books and am excited to try some recipes from here (esp hot fudge cake-- yum!)
31 Days to Clean
: Having a Martha House the Mary Way by Sarah Mae - this one is on my iPhone waiting for me to finish. Is it bad that September only has 30 days? Lol.
Homeschool
Towards a Philosophy of Education
by Charlotte Mason-- Also on my iPhone. I'm very interested in Charlotte Mason's approach. I just finished reading Home Education (her first book) this month and now it's on to her last book. I hope to read more of her after this.
Laying Down the Rails: A Charlotte Mason Habits Handbook
by Sonya Shafer-- this one is about helping children establish good habits that will allow their lives to go smoothly. It seems like the early years are all about training, doesn't it? I hope this book is applicable!
For Fun
I need recommendations here! I tend
not
to like Christian fiction-- with the exception of Francine Rivers. I enjoy a good mystery, but nothing too gory or violent. It's hard to find well-written adult books. Any recommendations?
What are you reading?