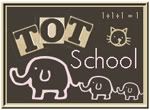 Grace is 12 Months Old
Now that Grace is a year old, I'm starting to do some more "intentional" playtime with her. I'm not doing anything incredibly structured, but just trying to bring out different toys and have fun!
Bible
Grace sits with us at breakfast time and listens to the Bible story I'm reading to Jonathan. I don't know how much (if any) she is absorbing at this point-- but she listens and looks at the pictures, so I consider that a plus!
Stories & Rhymes
Grace loves flipping through books-- she's especially fond at turning the pages herself. She won't sit through longer stories, but I've started trying to include some books for her each week based on the "theme" Jonathan and I are doing. This week, the big hit was:
That's Not My Monkey
... by Usborne
At this age, Grace is really enjoying the touchy-feely books. We checked out this book-- which is part of a series by Usborne Books-- from our library. Grace loved it! She liked patting the pictures and turning the pages. She pulled the book out on her own several times This is part of a series of board books, and one that I'd highly recommend for 1 year olds.
Here's what I put inside: a monkey (my old 1980s Curious George), monkey rattle, mouse beanie baby, moose beanie baby, musical instruments, mitten, meat (mystery meat?), magazine, mail, mirror, "M" magnets, monster puppet with a mouth, man, muffin cups, moon, macaroni (carefully sealed in a baggie), & an empty milk jug.
I gave it to Gracie and just let her explore it as she wanted. I named things as she examined them so she could pick up some new vocabulary words. She seemed to really enjoy manipulating and playing with everything
Exploring her macaroni

Grace is cruising around the furniture but hasn't taken steps on her own:
We had beautiful weather, so we went outside and she tried out the Crazy Coupe car for the first time. She loved it! She figured out how to go backwards and she also loved opening and closing the door:
We also played on our rocking horse this week:
Grace tried coloring for the first time this week. It didn't last long, but she made a birthday card for her Nana: