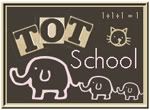 Jonathan is 31 Months
We spent a week looking at
monkeys
and we had a lot of fun. But before I begin I need some mommy-advice. I don't know if we're hitting "terrible" twos or what- but lately all it seems I do is discipline! Some of it may be a little sibling jealousy-- Grace is more mobile and gets more attention than she used to. So if I correct Grace, Jonathan will turn around and do the same thing I told Grace not to do. {
Sigh
}. It makes for one weary momma at times. I know this will pass... right?
Bible
This week we talked about the call of Moses and started to talk about the Exodus. We made a burning bush to go along with our Bible story. I'll summarize in a future Weds post.
Stories, Nursery Rhymes & Read Alouds
Our Bookshelf
We read lots of books about monkeys this week. To see our reviews of what we read, see this
post
.
Each morning we have a little "calendar" time. I write Jonathan a little message on our morning board and he enjoys finding his name in the message:
We've also been working on name recognition. I pulled out our alphabet magnets and had him match the letters in his name. He did a great job!
Gross Motor
We had beautiful weather this week- so we spent a lot of time outside!
Riding his tricycle-- still can't pedal though
Golf-- his favorite game!
Sensory Play
We played a lot with our monkey sensory bin:
Art
We colored a bit this week, using our
Kumon Let's Color
workbook. Jonathan's getting better fine motor control and trying to stay in the lines:
We also did a "M is for Monkey" do-a-dot page from Confessions of a Homeschooler. I didn't get to any more elaborate crafts this week!
And here's a peek at our burning bush craft:
Games :
We played
5 Little Monkeys Jumping on the Bed
. I got this free through
Freecycle
. We didn't have the instructions, but we just had fun putting the monkeys on the bed and popping them off. We counted the monkeys and tried to make patterns. Jonathan had a lot of fun:
Practical Life:
Jonathan learned how to help me with the laundry this week. He helps throw the clothes into the washer and pull the clothes out of the dryer.
We also attempted potty training. He will almost always go if I put him on the potty, but he hasn't told me when he needed to go. So, I put him in underwear for the first time. The good part is, he became
very
aware of when he was wet and when he was dry. He's started to tell me more
after
he's gone in his pull up and he did tell me once when he needed to go. I wrestle with whether or not he's truly ready... any advice?
So, that's been our week! It was a good week, and I saw some progress, but it's easy to get tired & discouraged sometimes. Maybe I just need a nap. :)
I link up to
these
parties! Thanks for visiting!