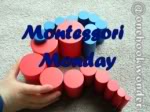 Jonathan had a bit of a rough week last week. During one particular afternoon while I was attempting to get some cleaning done, I pulled out this activity to entertain him. I got the idea from the book
Small Beginnings
by Barbara Curtis.
I purchased a small two-compartment cat dish and put water in the left side of the dish. I gave Jonathan a sponge and showed him how to use the sponge to soak up the water:
Then, we moved the sponge over to the right side of the dish and squeezed our hands to wring the sponge out:
Of course, splashing in the water is fun too:
And then, to extend the activity and give me some more cleaning time, I had him "wash" his fruits and vegetables:
This activity helped him to concentrate, develop some fine motor skills, and be more aware of left and right. It entertained him long enough that I could get some cleaning done-- so it was definitely a success!