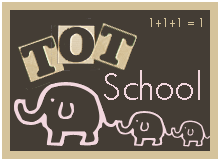 Jonathan is 29 Months


We continued looking at the letter "f" by reading about
flowers, fish
and
frogs.
Bible
We haven't worked on a Bible verse this week. We've been taking a little break from it. I have been playing the
Seeds of Courage
on our iPod and Jonathan likes dancing and moving around to the music.
We continued reading through a little devotional in the morning,
Everything a Child Should Know about God
by Kenneth Taylor. We do one page each day and talk about the pictures.
I'm planning on starting a through-the-Bible curriculum with him this week. Stay tuned to hear how it goes!
Books
We read books this week about flowers, fish and frogs as well as reading a selection of books by
Liza Baker
.
Planting a Rainbow by Lois Ehlert - a wonderful book for introducing different kinds of flowers to your children, as well as talking about seeds, seasons, and colors. Jonathan loved this book and had fun pointing out which flowers and colors he liked "the best".
The Pout Pout Fish by Deborah Diesen- a silly story about a grumpy fish who eventually gets his frown turned upside down in a surprising way. Super cute story with a great message.
Jump, Frog, Jump! by Robert Kalan- a cumulative story about a frog who tries to capture a fly- but other animals try to capture the frog. The frog has to jump to escape his enemies. Eventually, the frog gets in a situation where he needs a little help to escape. Jonathan enjoyed cheering for the frog to escape.
Those are the highlights- but we've read plenty more this week. See the original posts for our reviews.
Motor Skills
The only theme related activity we did was trying to jump like frogs. (This only frustrated Jonathan though).
We also spent some time outside early in the week and Jonathan mastered climbing a ladder at the park.
We also went to our first official "Tot Swim" at our local pool. This was a toddler-only swim time. Jonathan loved going down the small waterslide and had
so
much fun there. I, however, was exhausted from trying to watch two little ones at the pool. No pictures- sorry!
Art
We painted with flowers:
And made flowers out of playdough:
And practiced our gluing skills by making a fish (we also made a fox:)
We also dot painted the letter "f".
Math/Puzzles/Games
We attempted to play "Go Fish" (it was really just a matching game):
We used our peg boards, one of which is shaped like a fish:
We played with Jonathan's fishing game puzzle:
We matched frogs:
So that's what we've been up to this week! Thanks for visiting!