Ten Little Fish
by Audrey and Bruce Wood
This is a simple little countdown book in which ten little fish are swimming in a line- one swims away and then there were nine. The book continues until there is one lonely fish and then there's a sweet surprise ending!. The brightly colored digital artwork attracted Jonathan's attention and he had fun practicing counting with these fish. Cute read!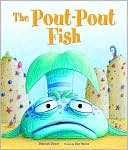 The Pout-Pout Fish
by Deborah Diesen
Oh how Jonathan loved this book! It's a silly story about a pouty fish whose face is in a perpetual pout. One by one his friends try to cheer him up but he just keeps resigning himself that he's born with a gloomy attitude. The refrain is snappy and catchy and always made Jonathan giggle. Jonathan grinned even more when he saw what finally turned this fish's frown upside down! This story has a great message too.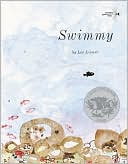 Swimmy
by Leo Lionni
This is a Caldecott Honor book about a little black fish named Swimmy whose quick swimming saves him when a big fish swallows the rest of his family. The little fish explores the big ocean by himself until he finds a school of fish hiding from the big fish. He comes up with a creative idea to allow the fish to swim freely. Lionni's watercolor artwork is breath-taking and well deserving of the honor medal it received. Jonathan was really drawn to this book and enjoyed pointing out Swimmy on each page.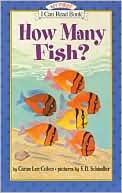 How Many Fish?
by Caron Lee Cohen
This is an easy reader about a school of fish and some children playing in a bay. The rhyming text features a little fish who lost its way. The story is simple, but Jonathan seemed to enjoy it. He liked counting the fish as well as the feet of the children. It probably would not hold the attention of older children.
Activities
We made a fish using a printable from
Confessions of a Homeschooler
. Jonathan did all the glueing and placement himself- he was so proud!
We tried to play
Go Fish
! It really wasn't Go Fish- we just matched our Go Fish cards. Jonathan is
really
into matching lately.
We played with our peg boards, one of which is shaped like a fish:
And we played with our fishing game that I found at Target:
I'm linking this post up to
Read Explore Learn
@ JDaniel4's Mom
Web Resources
F is for fish
@ Confessions of a Homeschooler
F is for fish
@ First School