We started letter g with "G is for gorilla".

Little Gorilla
by Ruth Bornstein
We've owned this book for a while now and it's such a sweet story that I was happy to pull it out for our gorilla day. It's the story about a little gorilla who well loved by everyone in the jungle. But little gorilla grows up and gets big-- and everyone still loves him! It's a very reassuring tale for toddlers who are quickly becoming big boys and girls. Jonathan likes this story and it stuck with him so much that he even narrated it back to me. We definitely recommend this one!
Go Go Gorillas
by Julia Durango
This is a fun tale in which the king of the gorillas, King Big Daddy, sends a mouse messenger to gather his gorilla relatives for an important surprise. The rhyming text tells how the messenger approaches each gorilla and the method of transportation each gorilla uses to get there: "
First to get the message was Big Daddy's nephew Ike 'I'll pack a pickle sandwich then I'll ride there on my bike."
The refrain is repeated after every other gorilla "
Go-go gorillas! Gotta go, gorillas, go
!" The gorillas ride scooters, pogo sticks and hot air balloons as they travel to the Gorilla Villa to hear King Big Daddy's news. It's a fun story and Jonathan got into saying "Go-go gorillas!" It's also a great book to teach ordinal numbers. Jonathan doesn't grasp that concept yet, but I'll have to remember this book when we get there.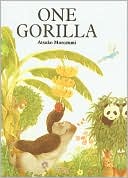 One Gorilla
: A Counting Book by Atsuko Morozumi
In this award-winning book, the narrator lists things that he loves, starting with one gorilla and progressing to ten cats. The beautiful ethereal illustrations show the various animals in different habitat-- and always include one gorilla. The animals are not always obvious, so you can have fun searching through the pictures to find the animals. The last page ends up with a gorilla fast asleep. Jonathan had fun with this book, although he couldn't always find the different animals.
Note: We also checked out Anthony Browne's Gorilla. This beautifully illustrated book, however, had too sad of a tone for a child Jonathan's age.
Stay tuned for our activities and some printables!
G is for Gorilla
@ Totally Tots