We had some
gorgeous
weather last week and we spent quite a few mornings outside in our yard. Our flowers have been in bloom so I took the opportunity to read some books about
flowers
to go along with our "letter Ff" theme.

Planting a Rainbow
by Lois Elhert
This is a wonderful book for introducing different types of flowers to your child. In this story, a mother and child plant different flowers in their garden. They plant bulbs in the fall, order seeds in the winter and sow seeds in the Spring. The Spring comes and they enjoy watching their rainbow grow. They have flowers of every color and you can lift pages to see flowers of every color of the rainbow. The flowers are identified and Jonathan was even able to match some of the illustrated flowers with flowers in our garden. He simply
loved
this book and even wanted to bring it down to Nana's house. We highly recommend this one!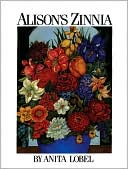 Alison's Zinnia
by Anita Lobel
In this alphabet book, Alison acquires an Amaryllis for Beryl. Then Beryl bought a Begonia for Crystal, and the book continues through the alphabet introducing different types of flowers. This was a book that Jonathan also enjoyed, but not as much as the first one. He definitely did not get the alphabetical connection between the flowers and the first names. But it still held his attention and he was moderately interested in the different flowers.
Art
We painted with flowers-- we picked a few of the remaining dandelions from our yard (as well as a flower I can't identify) and then used them as our paintbrushes:
I drew an outline of lowercase f on our paper and Jonathan tried to paint within the lines. When the paint dried, we (I) cut out the letter.
Jonathan chose rather warm colors so it almost looks appropriate for "f is for fire" as well!
We also made flowers out of play-dough:
I'm linking this post up to
Kids Get Crafty
@ Red Ted Art- check out the site for more craft ideas!
stART
@ A Mommy's Adventures