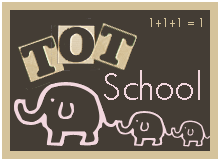 Jonathan is 27 Months
This week both Jonathan and Grace sufficiently recovered from croup/ear infections and we got back into the swing of Tot School. We started looking at the letter d while we were sick and learned about
dinosaurs
. This week we focused on
doctors
,
diggers
,
dogs
and ducks! I haven't gotten the
ducks
post up yet- but hope to sometime in the next week.
Bible
We continued to review our memory verse this week from the
Songs for Saplings CD
:
"He will take great delight in you" Zephaniah 3:17.
We printed out the memory verse from the Totally Tots
printable
. We've started having a little "circle time" every morning which Jonathan is excited about. We pull out our baby band and sing several songs, including our memory verse. Even Gracie plays along!
Books
We read lots and lots of books the past couple weeks about all of our "d" words. We also started reading a children's devotional in the morning,
Everything a Child Should Know about God
by Kenneth Taylor. Here were some of Jonathan's favorites- click on the links to see our reviews and lots more books!
Danny and the Dinosaur
by Syd Hoff
How do Dinosaurs Say Good Night
by Jane Yolen
Dazzling Diggers
by Tony Mitton
Digger Man
by Andrea Zimmerman
Angus Lost
by Majorie Flack
Go Dog Go!
by Philip Eastman
Sensory Bin
We played with a
dinosaur
sensory bin- this kept him occupied for a long time!
Motor Skills
We did some work on lacing using cards (
dinosaurs
and ducks) I printed from
Confessions of a Homeschooler
and 1+1+1=1's
Tot School Printables
.
We also worked on transferring water using a
medicine
dropper:
And we worked on puzzles.
Letters & Writing
We did a dinosaur letter match from
Confessions of a Homeschooler.
This didn't hold his attention for too long, but he got the concept. He would confuse the letters if they were upside down- for example, the font made the "n" and "u" look the same. And initially he thought "d" was "p" and there's no "p" in dinosaur.
We also did some pre-writing
exercises
:
Art
We made our own
doctor
kit:
We did a
dog
craft:
Pretend Play/Music/Games
We played with Jonathan's toy
digger
And played hide and seek to
Oh Where Oh Where Has My Little Dog Gone
using a toy
puppy
:
Practical Life
Jonathan helped Mommy with some Spring Cleaning:
Anyways, this upcoming week we're starting on the letter "e" for eggs and elephants. We're mostly focusing on eggs for Easter! I'm excited about this week!