Wednesday through today are kind of lumped together, since we've been focusing on the Easter story...
Books & Resurrection Eggs
Wednesday we started looking at our
Resurrection Eggs
. These are12 colorful plastic Easter eggs that each hold a small token to help retell the Easter story. I finally got the book I was hoping to use with our eggs today: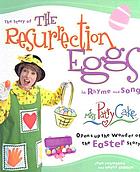 The Story of the Resurrection Eggs in Rhyme and Song is such a
great
resource for toddlers! The Resurrection Eggs set comes with a small devotional book- but it isn't suited well for toddlers. Also, if you do the 1 egg a day format, you end up spending about 5 or 6 days on the death of Jesus. That's just a lot for a toddler-- so I like that this book chooses
7
eggs. It's just perfect for doing one a day on Easter week! The rhymes are very fun and there are songs to go along with certain days. Apparently, there's a DVD that goes along with the book, but we don't own it. We may have to try to find it for next year!
Wednesday- we focused on the story of Palm Sunday. Since we didn't have the Resurrection Eggs book, we just read the Bible story from Jonathan's Baby Bible. Jonathan still enjoyed pointing out Jesus in the pictures and was excited to open the first resurrection egg which had a little donkey inside. For art, we tried to make a donkey out of our orange playdough.
Thursday we focused on the story of the Last Supper/Passover Meal. We read the story of the Last Supper from The Jesus Storybook Bible. We opened our second and third resurrection eggs-- the coins and the cup.
Today we got our book in the mail and we opened up several more Resurrection Eggs- the praying hands, the crown of thorns, the cross made of nails, and the stone in front of the tomb.
Then we fingerpainted! I put some masking tape on a piece of fingerpaint paper to make the outline of a cross, and then I let Jonathan fingerpaint. He chose red paint and had a lot of fun!
For more Resurrection Egg ideas, see
2 Teaching Mommies 12 Days of Easter unit
-- lots of great ideas there!
We are headed out of town for Easter, so Happy Easter everyone!