Touch the Art
is such a creative series designed to introduce children to great works of art. These board books are in a "touch and feel" format so children are touching, tracing and tugging famous works of art. Part of each picture is replaced with a tactile experience- hair to brush, a flap to turn, a curtain to lift, etc. An additional benefit is that each book in the series ends with a couple pages giving background information on each work that is included in the pages. It's educational for both parents and children!
I came across these board books while browsing through our library and knew we had to try them out!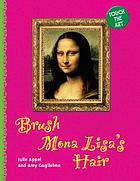 Brush Mona Lisa's Hair
is meant to introduce children to great art from the Renaissance and Baroque period. This book includes works by Da Vinci, Botticelli, van Eyck, Vemeer and Raphael.The tactile experiences range from brushing Mona Lisa's Hair to touching the pearl earring on Vemeer's famous work "Girl with a Pearl Earring". The text itself isn't the greatest-- but the book provides plenty of opportunities to talk about the paintings themselves.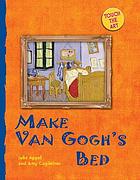 Make Van Gogh's Bed
is another book in the series which is meant to introduce children to works of the 19th century. Little ones will make Van Gogh's bed, touch the tutus of Degas' dancers, and pat the lilies in Monet's garden. I liked this book even better than the first one we reviewed. The text in this particular book seems much more natural and child friendly and I was more familiar with the artists and art works included.
All in all, this seems like a fun series for introducing toddlers and preschoolers to great works of art. Through this series children will learn to recognize some famous paintings as well as some famous artists. There are eight books in the series and I think we will be exploring more of them. Jonathan has really enjoyed these books and even Grace liked patting the pages.
Library Links
Brush Mona Lisa's Hair
Make Van Gogh's Bed
I'm linking to:
What My Child is Reading @
Mouse Grows Mouse Learns
Feed Me Books Friday @
Little Sprout Books