This week was a tad rougher than last week. Jonathan came down with croup late Saturday night and so he was a bit off this week. He only napped two out of five weekdays, which combined with feeling sick made him much less likely to listen and cooperate with Momma. The late afternoons/evenings were the roughest, but the past few days he seems to be feeling better and has had much smoother days.
In praying this week, I must confess that I got behind. But I did pray that he would develop more of the fruit of the Spirit in his life (peace, patience, kindness, goodness, faithfulness, gentleness, and self control). I was also very convicted that I need to be praying these things for myself! By the evenings this week I was out of patience and struggling in many of these other areas. It was exhausting.
But, we're persevering and trying to cultivate good habits of attentiveness and obedience. It's a delicate balance of knowing he's a boy, and therefore will be very energetic and loud at times, but still drawing boundaries where appropriate. All the more I need prayers for wisdom as new challenges arise each day.
I've been very blessed by going through this book and meeting a couple ladies who also have a heart for their little boys. Thank you for facilitating Shonda!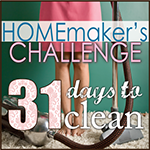 And then there's the Homemaker's Challenge... I had a pretty productive week, although I am definitely behind in the book.
I was particularly blessed by Tauna's post: Willing Hands. I'm a perfectionist. I want to do everything perfectly. I stress out about failing. And overall, I'm so inspired by looking at other blogs and seeing what other mothers are doing-- it's been a way of mentoring for me as I'm learning how to maintain my home and teach and disciple my children. Yet at the same time, I compare myself and judge myself for falling short. I need a new ideal. I don't know what that looks like yet, but I'm praying through it.
So to celebrate the little successes this week...
I managed to get dinner on the table 5 nights in a row! Yay! I struggle with menu planning a lot. I also washed my wood floors- something I've never done before. And I washed the insides of my windows. So, I'm happy with what I accomplished. I'm still learning to develop routines that work for me, so that's my goal right now.
Have a great weekend!