Wow. What a week. I'd have to say this is one of the roughest ones I've had all year. You'd think since it was Labor Day, that it would have been a easy, short week... but that was not the case. Sigh.
Warrior Prayers
I mentioned on Monday that I was joining in the Fall session of 21 Days of Prayer for Sons. Ever since then, it's been a battle-- let me tell you! I've prayed for heart change, obedience, submission, integrity for Jonathan (as well as Grace, my future son-in-law and
myself
).
The Good
: Jonathan has gotten much better at sharing. We've been stressing being
kind
to others and that seems to really resonate with him. So there's some progress-- yay!
The Bad
: Temper tantrums and deliberate disobedience have reared their ugly head this week. It's unusual for Jonathan. He ordinarily has a overall sweet temperament. I have lots of questions for more experienced moms:
* how do you deal with temper tantrums?
* Jonathan has also decided to mostly stop napping during the afternoons-- he's 32 mos. I don't know if the two issues are related... when do little ones generally stop napping?
31 Days to Clean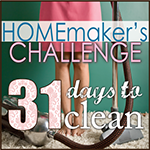 I've also joined in the September session of 31 Days to Clean over at Homemaker's Challenge. So, as a general progress update, this week I:
* reviewed my mission statement
* hung some fall decor and some wall art in my mudroom
* cleaned out my refrigerator
* cleaned the top of my refrigerator
* cleaned the outsides of my cabinets and appliances
* cleaned out my microwave and my oven
* mopped the kitchen floor
So there's some progress there too.
So this week I've spent more time disciplining and cleaning than anything else. We got very little "Tot School" accomplished this week. I feel broken, humbled, and weak. So, my readers, I don't have it all together. I'm
not
Super Mom! I feel physically and emotionally drained this week. I've had to "run away" for some me time a couple evenings and make some Starbucks runs during the day to keep mommy sane. So, please pray for me and my little ones this week. It's been rough, but this too will pass... right???