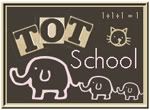 Jonathan is 32 Months
This week has gone much more smoothly, so we were able to do a little more "Tot School". We turned our focus to the letter "Kk" and learned about two Australian animals: the kangaroo and koala!
Bible & Character
We also learned about Joshua this week and read several stories about the biblical hero. We also started focusing on different character traits/godly habits. We recently bought this
book
which focuses on 12 different habits and how they are lived out in different settings. My plan is to do one habit a month, and supplement with different activities. So look for upcoming posts about these topics!
Books
The heart of all of our learning adventures is reading. I've really resonated with the Charlotte Mason philosophy of surrounding children with "
living books
". So, each week we try to read a lot of picture books about our subject. It's meant to be a fun way to get them interested in what we're learning about.
This week, we read (favorites are marked with a *)
Kangaroos:
Koalas:
Geography
We did a little mini-geography lesson about Australia. We recently got a
Hugg a Planet
globe pillow and talked about where Australia was on the map. Both Jonathan and Grace really enjoy our soft globe:
It's great for cuddling!
I live here! (kind of)
We also used some free
three-part Australian animal cards
and matched up animals from our
Safari Land Down Under Toob
. Jonathan
loves
to play with his animals. Every time one would be mentioned in a story, he'd find that animal (dingo, cockatoo, platypus, etc.).
Art
We made a
kangaroo
:
and a
koala
:
I cut out the animals, but Jonathan did the gluing and placing "all by myself".
We also did some coloring with Grace this week, along with a page from our
Kumon Let's Color! Workbook
. Jonathan is understanding that he needs to color inside the lines, but doesn't always have the fine motor control to do so:
Fine Motor Skills
Jonathan
loves
puzzles lately too. He's so proud to tell me when he does a puzzle "all by myself!". We did several puzzles lately:
Doing a 12-Piece Melissa & Doug puzzle
Doing his 24 pc transportation floor puzzle
Sensory Play/Math
We played with our fall sensory bin and tried to make ABAB patterns, along with other sorting/counting activities (look for a Montessori Monday post tomorrow with more extension ideas).
Scooping apples
A Gourd/Pinecone Pattern
So those are the reading and learning adventures we did this week. We are linking up to
these
fantastic blogs. Have a great weekend- thanks for stopping by!