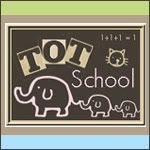 Grace is 13 Months
Since we had less behavioral issues this week, we were able to get back into our tot school groove!
Books
This week, Jonathan and I focused on the letter K and read about kangaroos and koalas. Grace always joins in with our reading time, but I try to pick out some books especially for her. This week we read:
Does a Kangaroo Have a Mother Too?
by Eric Carle
This is sweet book that reiterates the fact that
all
mothers love their babies. Each page asks "does a ______ have a mother too?" and then the following page shows a picture of the animal saying "yes, a _____ has a mother, just like me and you... does a _____ have a mother too?" It's predictable text, which is great for emerging readers or for children to chime in with the story. Carle's artwork, as usual, is beautiful. The story itself, while having a sweet message, is a little dull. My husband and I tire of reading the board book, but both our children have enjoyed looking at Carle's pictures of the different animals.
Motor Skills
We pulled out our
walk n ride
this week, and Grace has loved walking around the house with it:
We brought another walker to the park this week and she had equal fun pushing it around the grass. Hopefully, it'll motivate her to want to walk at some point! She is starting to let goand stand unsupported for very short periods of time.
She also is quite the climber. She can climb up the stairs all by herself, but doesn't do so well going down. She also loves climbing under furniture- especially under tables and chairs. Sometimes she gets stuck:
We've also played with our stacking rings, which she loves the repetitive action of taking on and off the dowel rod. I pulled out our
Melissa & Doug Stack and Sort board
, which she loved. She didn't match the colors or shapes, of course, but she really had fun just pulling the different pieces off and on the colored rods:
Art
Grace loves to color and scribble. She's gotten very good at keeping crayons out of her mouth, but doesn't do as well keeping them on the paper!
Language
Before I forget, she's said several words this week! She won't always say them, but she's said
book, ball, milk,
and
puff.
She's also started nodding or shaking her head when I ask her a question. It's so nice to be able to communicate with her!
I also made another "sound box" for her to explore. I'll try to post a picture of it next week. So far it contains a beanie kangaroo, a beanie koala, key rattles, and a bottle of pretend ketchup. It's a lot harder to come up with objects for "k" that I have around the house!
So that's been Grace's week, Check out what other moms are doing over at
1+1+1=1
. Coming up tomorrow I'll share more about Jonathan's week.