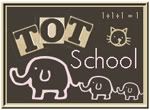 Jonathan is 31 Months Old
This week was a little slower, but we still had lots of fun! We finished up the letter M by talking about mice and other related "m" words.
Bible
This is the most important part of our week-- I'm trying to fit in our Bible story and crafts before I fit in any letter of the week activities. This week, we learned about the Exodus and God giving manna in the wilderness. I'll share the specifics of the lesson on Weds but we did a couple activities based on the stories:
We made manna cookies:
Check back in on Wednesday for our next Kids in the Word post!
Stories, Nursery Rhymes & Read Alouds:
Our bookshelf for the week
I haven't written up our thoughts on the books we read this week, but here are some highlights:
Gross Motor Skills
We had another beautiful week! We spent time outside playing golf, catch, soccer and spending time with friends who came to play.
We also went to our local forest preserve and took a nice walk (about a mile) had a picnic by the pond. Jonathan loved this. (Grace did too!)
Larry the Cucumber went everywhere with us this week.
It ended up being a little nature study-- we saw geese, fish, ducks, seagulls, birds, and butterflies! Jonathan and I fed the ducks (and the fish) and he had so much fun doing this!
Art
In addition to our Moses craft, we painted with watercolors this week:
And we mixed playdough to make new colors: orange, green and purple! (as in Mouse Paint)
And made mouse houses out of shapes (like Mouse Shape)
And then made a snake (like Mouse Count):
Science
We made Magic Muck this week. We made it in the secondary colors, once again mixing primary colors to see the colors they made.
3/4 cup cornstarch
1/3 cup water
food coloring
1. Mix water and food coloring together.
2. Slowly add cornstarch- do not stir!
3. Let stand for 2-3 minutes.
4. Pick up a handful and squeeze it until it forms a hard ball.
Magic Muck turns from a solid to a liquid and back again. We had a lot of fun mixing it up. Jonathan enjoyed playing with it, but didn't fully understand the whole solid/liquid thing. We may pull this out another time.
So that's what Jonathan and I did this past week. I'm linking up to
these
linky parties. Head on over to get more fun ideas for your toddlers and preschoolers!