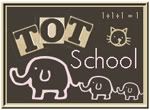 Grace is 13.5 Months Old
I'm very thankful that Grace hasn't seemed to be affected too much by Jonathan's croupy cold. She has a bit of a cough and we're running a humidifier in her room, but that's about it. So we were able to do a few things together. She's been more the focus this week, since Jonathan was feeling sick and out of sorts.
Books
This week Jonathan and I talked about
kittens
and
kites
and read several related books aloud. Grace almost always listens in, as we do a lot of reading at the lunch table. But I try to pick out a theme-related book for Grace. This week we read:
That's Not My Kitten... (Ubsorne Touch Feely)
by Fiona Watt
Grace just
loves
touchy-feely books, and this popular Usborne series has plenty of wonderful books for infants and young toddlers. Grace enjoyed patting the kittens on each page and I think she even tries to say "kitty" now. It's a short enough book to allow you and your baby good snuggly time and to get them used to sitting and reading with you. Grace likes turning the pages back and forth and she's starting to grasp the idea that one reads a book from left to right, which is an important pre-reading skill!
Motor Skills
Grace still loves push toys. She isn't walking independently, but she keeps trying out different push toys and even has figured out how to move our ottoman around! We had some nice Fall days this week and she had a lot of fun pushing the wagon outside:
She's so proud of herself-- she can be interested in this for quite some time! She's also started trying to let go and stand-- only for about ten seconds at a time, but much longer than last week!
She also really liked her
Crawl Along Snail
this week and would clap her hands and dance along with the music:
Early Learning Fun
We also played with our early
lacing beads
. She wasn't able to lace them yet, but she had fun putting them in a muffin tray: I talked about what colors and shapes they were as she played with each one:
We also played with our
LeapFrog magnets
. I put them on a cookie tray and let her move them around: I talked about the letters and the sounds they make.
And she had fun putting them on and off our French doors. She figured out that they don't stick to the glass:
So that was Grace's week!