As we've ventured to the library, I've tried to find toddler friendly picture books. On almost any toddler-friendly booklist, you'll find the picture book Hug by Jez Alborough. This is a book we own and have enjoyed, so I decided that we would start by looking at some other books written and illustrated by Jez.

First, if you're not familiar with Hug, it's a sweet story about a little monkey named Bobo who goes for a walk and witnesses other animals parents and babies snuggling and hugging each other. With the help of other animals, Bobo sets out to find his own mommy to get his very own hug. The story is practically wordless and is told by the expressions on Bobo's face. When we first started reading this book, it was a challenge for me since I didn't know how to tell the story. But with each reading I found it easier and Jonathan enjoys the book a lot. The best part is that he likes to give hugs when we read this book!
Alborough has written two other books featuring Bobo the monkey--
Tall
and
Yes
. Both are a similar style to Hug. We've enjoyed Tall, but with Yes, I found it a little disappointing that (a) Bobo's momma walks away from him when he throws a tantrum and (b) that Bobo doesn't learn how he needs to say "Yes" to his momma. So I'd personally say skip the latter book.
Purchase Through Amazon:
Find in your local library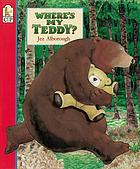 Another series of books that Jez has written features a boy named Eddy and a big bear. The first book in the series (and our favorite) is Where's My Teddy? In the book, a boy named Eddy goes walking through the woods to find his lost teddy bear so he can go to bed. He's surprised to find a gigantic stuffed teddy bear in the woods-- is it his bear or does it belong to someone else? This book is full of fun rhymes and is a real treat to read aloud. I like to make silly voices for Eddy and the bear and Jonathan really enjoys this read aloud. One item to note: it does feature a boy wandering in the dark woods by himself, so it could potentially frighten some children. Jonathan doesn't seem to be bothered by this, and he enjoys the humor of the story a lot!
There are two other books in the Eddy series:
It's the Bear!
and
My Friend Bear
. We've checked out both books, but have enjoyed the first book the most. They'd be a great addition to a homeschool unit on bears.
Find in your local library

Another series we've really enjoyed is Jez's books about a silly duck.
Duck in the Truck
is a book about the duck who's truck got stuck in some gooey muck. It also features a frog, a sheep in a jeep and a goat in a boat. It's a story that my son just loves. In fact, all the duck books have been a hit with him. This book especially has been a favorite and would make a great early reader as well.
Another favorite has been
Duck's Key: Where Can It Be?
This book is a lift the flap book in which the frog teases the duck by hiding the truck key.
We've been pleased with the Duck series and hope to check out even more Duck stories from our library.
Find in your local library
You can find more information about Jez Alborough at his
website
, including
coloring pages
,
teacher's resources
, and a printable
booklist
for the different stories.