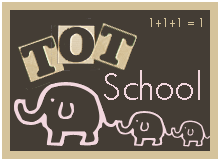 Jonathan is 25 Months
Another slower week for us, Tot-School wise. I had big plans for the week, but we were waylaid by the stomach flu-- so not a lot of pictures this week, sorry! We did get off to a good start though as we focused on the book
Chicka Chicka Boom Boom
by Bill Martin Jr. and John Archambault.
Jonathan recognizes all of his uppercase letters and knows the sounds that the letters make, but he doesn't recognize all of the lowercase letters yet. So I thought that this Spring and Summer, we'd review the lowercase alphabet and talk about different words that start with each letter. Chicka Chicka Boom Boom is the perfect book to start our lowercase alphabet journey, since in the book the lowercase alphabet is featured climbing up the coconut tree!
So last week, I made a coconut tree to go up on our playroom wall:
I was actually kind of proud of myself because I am not a crafty person at all. I took an old Target paper bag and cut it up for the trunk and the coconuts and then made the leaves from green construction paper. Pretty easy and all using things we had on hand. We actually have some dried coconuts we mailed ourselves from Hawaii, so I think I may pull those out and put them at the bottom of our tree.
Jonathan was very curious about the tree- but I told him it would be a special surprise for the next week. :)
I made a lowercase "a" out of construction paper and we played the song and read the book- then we reenacted the book, having our "a" climb the tree.
our "a" climbing the tree
This was a HUGE hit with Jonathan. He wanted to listen to the song over and over again and he kept wanting to have the "a" climb the tree. Since our "a" was made from construction paper, it was unfortunately not very sturdy and did not stand up to the playfulness of a 25 month old boy! So, I've improvised- I found some wonderful lacing card templates over at
Home Grown Hearts
and simply printed out the cards, cut them out, and laminated them. Jonathan liked having the big letter and baby letter- and it helps him match the letters-- problem solved!
I also made my first lapbook, which includes numbers, upper and lowercase letters, shapes, colors and Jonathan's name:
As you can see, Jonathan really enjoyed finding the lapbook when he woke up from his nap. Although I laminated some of the pieces, it still wasn't quite sturdy enough to be played with by an enthusiastic little boy.
pardon the after nap hair!
I would love input from other moms of energetic little ones-- is there any way to make lapbooks more sturdy for toddlers? I was so proud of my work (it took all afternoon) and I want him to enjoy it-- but for more than a day! I'm hoping that Grace can reuse his lapbooks. Any ideas?
Finally, I'm so thankful we checked out a storytime DVD with
Chicka Chicka Boom Boom
from the library. Although the Chicka Chicka story only lasts about five minutes, it's been a lifesaver this week as Brian & I have been battling the flu. Jonathan enjoys the other stories on the DVD as well, but not as much as Chicka Chicka!
Here are the library links if you are interested-- and want to find these titles in your local library. We're big fans of our library!


Thanks for visiting-- have a great week!


This post is linked up to
Tot School
at 1+1+1=1.
All Amazon links are affiliate links- if you should choose to purchase a product through Amazon, we will receive a small commission. However, we are
big
supporters of our local library and try to include library links for you as well!