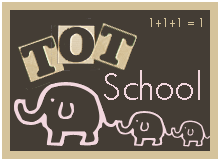 Jonathan is 24 months & 3 weeks.
This was a slower week for us Tot School wise. We live in northern Chicagoland and we were hit by a BIG blizzard this week. They actually closed down the county on Wednesday- which
never
happens here. Growing up just south of Philly, we would get snow days any time there was more than an inch or two on the ground. But up here, they never close down except for this week!
The snow hit on Tuesday night and we were fortunate enough to have daddy work from home. So Jonathan got a little bit of time to play in the snow before the wind chill dipped down to -20 the next day.
Here was our backpatio and garage:
I think we had about 20" with some drifts as much as 5'.
So, this week we focused on a few
snow
related activities.
Bible:
We talked about the verse Psalm 51:7 "Wash me and I will be whiter than snow" and listened to it sung on the CD
Songs for Saplings
. You can get some resources for this memory verse from
Totally Tots
. I had a great idea for a visual illustration but we didn't get to it this week. Oh well! I love this CD though and it's so encouraging to hear Jonathan singing along!
Stories & Nursery Rhymes
We read books about the snow (see upcoming post for reviews) such as
The Snowy Day
,
Froggie Gets Dressed
,
The Biggest Snowball of All
, and
Snowmen At Night
.
Movies
We also watched two different signing time movies that incorporated some winter and snow-related signs. We're
big
Signing Time fans. Jonathan didn't start talking until a few months ago, but these videos (1) helped us communicate with him from the time he was about 12 months and (2) helped increase his vocabulary so that when he did start talking, I was literally amazed at all the words he knew! Now I'm starting to sign with Gracie, although judging by the babbling she does, I think she'll be talking fairly quickly.
We watched:
Family Feelings and Fun
(Series 1 Episode 4) not only covers signs for family members and different feelings, but also signs for going outside such as snow, boots, gloves, hat, wind.
Find it in your local library
We also watched the series 2 episode
My Favorite Season
. This episode talks about seasons (winter) and temperature (cold, warm, hot, etc.). There is some duplication with signs taught in the first series, but it's a good introduction to the seasons of the year.
Find it in your local library
Motor Skills
We played outside a little bit on Wednesday morning but then the temperatures dipped down to -20 to -40 with the wind chill, so we were house bound the rest of the week.
Besides the basketball playing I mentioned last week, this week I read about
this
active alphabet game on Frugal Fun for Boys and it worked wonderfully! I laid out some alphabet flash cards we own and told Jonathan to go run and get me a specific letter. He had a blast! We got through to about the letter "R" and then he gave up and laid down on the ground. :) It was great for getting rid of some extra energy.
Fine Motor Skills
Jonathan was very into puzzles this week. He likes going over to Grace's bumbo chair and sitting in it and working on a puzzle. I rotated the toys this week and pulled out some new (old) puzzles. I was impressed that, for the first time, he figured out his Melissa & Doug
farm sound blocks puzzle
. He was so proud of himself- "I did it! Good job!" he said.
Listening to the dog bark
We also played with his MegaBlocks, which were still too frustrating for him. And his choo choo trains, which he loves.
Art
We continued to work on our Kumon
Let's Color
worksheets this week, but Jonathan isn't as in to coloring as he used to be. He doesn't quite get that he's supposed to be coloring something specific yet, but he's getting better at refining his strokes and is still having fun. We also did some finger painting this week and I let him stamp some shape cookie cutters onto paint, which he liked. Unfortunately, it didn't last long so no pictures. We've finger painted before, but this time he kept wanting to lick the paint off his fingers so I ended the activity.
Counting & Math
Jonathan's started to count! He's recognized his numbers for a while, but he hasn't figured out counting. We attempted to count with his
abacus
, but he was too interested in just moving the beads around. However, late in the week he started to tell us "one, two cups". Daddy (a math major) was so proud!
Practical Life
We ditched potty training this week. I'm just not sure he's ready yet.... I needed the encouragement from the GirlTalkers this week.
We did do some baking together this week, working on pouring and measuring. I always give him his own bowl and let him play with some of the ingredients. We made
Double Chocolate Crisps
for the first time and they turned out quite yummy! I modified the recipe a bit by omitting the pecans and adding 1/2 tsp of espresso powder. Mmmmm. It was a good chocolate fix for mommy and baking just seemed to be a perfect way to spend a snow day!
Pretend Play
Jonathan's started to pretend as well. His favorite pretend games this week were pretending to make cookies. He dumped his Lakeshore
Counting Cookies
into a bowl and would pretend to stir them with a whisk:
and he started dressing up like a cowboy and riding his horse:
I love this picture!
This post is linked up to
Tot School
at 1+1+1=1. Be sure to visit there for more inspiration from other Tot School moms. Thanks for visiting-- have a great week!
Note: Links to Amazon are affiliate links. Should you choose to purchase through Amazon, I will receive a small commission from the sale. All other links are non-commission based. We are big fans of our local library and encourage you to look there for resources.