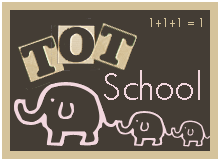 Jonathan is 25 Months
We had a
ton
of fun doing tot school this week! To follow up our
Chicka Chicka Boom Boom week
, we started reviewing our lowercase letters. Jonathan recognizes all the uppercase letters and knows the phonemic sounds they make, so I decided that for the Spring/Summer we'd focus on one lowercase letter each week.
This week we kicked off our study with the letter "a" learning about fun things such as
aquariums
,
ants
,
ambulances
,
astronauts
,
alligators
and
apples
! Each day focused on a particular theme. I've typed up summaries of each day. Here are some highlights:
Bible
For each letter, we have a memory verse song to go along with it. And, as we discuss each day's topic, I try to tie it in to a Christian worldview. For example, when we talked about ambulances, we talked about how they help people who are hurt and how we can pray for people when we see an ambulance. For ants, alligators, apples, we talked about how God made each of these things. Its nothing very profound, but I want my children to see that God's a big part of life!
Anyways, for our memory verses, we've been listening a lot to the album
Songs for Saplings
. I love it! They have a verse for each letter of the alphabet as well as different seasons of the year. I play the CD in the background a lot while we play and it is so awesome to hear Jonathan start to sing along.
This week, we focused on the first song, "
Keep me as the apple of your eye-- Psalm 17:8
". You can find great printables for this verse over at
Totally Tots
. I just printed and laminated the verse and hung it on our playroom wall. We sang along with the song.
We also have been listening to Thingamakid's
Alphabet Bible Songs
. They also have a song for each verse of the alphabet and you can print free
coloring pages
from their website. The song for A i
s "As for me and my house, we will serve the Lord
" -- which is another good verse to know!
Books
I love reading with Jonathan, so I want to make sure we incorporate a lot of books into our week . Here are some of our favorites from this week. (Check on each day's summary to see a review of all the books we read, as well as links to find the books in your local library)
Arts & Crafts
Jonathan loves his
do a dot markers
lately, so we did a lot of do a dot pages with astronauts, alligators, ants, apples... he had a lot of fun!
Working on A is for Astronaut
We also have been working on stickers and pasting. We've been using the
Kumon Let's Sticker and Paste
book- which he loves. I did a supplemental craft by simply buying some aquarium stickers from Target and having him stick them onto blue construction paper. He had fun naming the animals and kept going back to look at his artwork during the week. He was very proud!
Field Trips
We spent a Saturday at our local aquarium with friends where we had fun looking at fish, turtles, and even going to a dolphin show. We also did a mini field trip to look at ambulances at our local ER.
Puppets
We played with a few puppets this week- an ant, an alligator, and we made an astronaut puppet. Jonathan would have the puppets say "hi Mommy", but he didn't play with them much beyond that. Maybe next time!
Jonathan's astronaut puppet
Math
- ant number matching
- apple number recognition
- ant size sort
- shapes:
We also talked about
squares
this week. Jonathan already recognizes shapes, but I wanted to review seeing shapes in real life. We checked out a 5 piece puzzle from the library that shows different objects that are square shaped (window, cracker, etc.). We also did used some
printables
from Home Grown Hearts to help us find squares around the house.
Music
In addition to our Scripture memory songs, we listened to several songs about the letter A or things that begin with the letter A. Here are a couple of our favorites:
The Ants Go Marching by
Cedarmont Kids
-- the classic kids song. Jonathan loved marching along to this song. We even pulled out our cymbals for the "boom, boom, boom" chorus.
Aerobic Armadillo from Kimbo Educational's
A to Z the Animals and Me
-- this one got us moving as well! We did things like jogging & knee bends. It was fun. :)
Whew! What a busy week-- it's taken me a while to get this post up because there's just so much content! This week we're visiting relatives so no tot school plans-- but the following week we'll be back with the letter b and looking at bears, bats, balls, balloons, buses, bananas... you get the idea! Thanks for visiting-- have a great week!
See each day's summary (posts will be up this week)
a is for aquarium
a is for ant
a is for ambulance
a is for astronaut
a is for alligator
a is for apple
This post is linked up to
Tot School
at 1+1+1=1.