A couple weeks ago Jonathan and I began journeying through the Bible. The first story that we focused on was the story of Creation (Genesis 1 and 2). Here are some of the things we did:
Reading
:
We read from Jonathan's Bible,
The Bible in Pictures for Little Eyes
. This is a
wonderful
Bible for toddlers.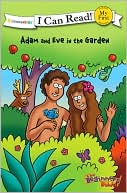 We also read
Adam and Eve in the Garden
, an early reader book from the Beginner's Bible. Jonathan
loves
this series of books and requests one each night before he goes to bed. He picked up on the plot easily and was able to recall details of the story.
Art
We did art projects to show what God made on each day of creation:
Day One
: We glued black paper upon white paper to talk about darkness and light. We then used picture cards featuring different day/evening activities and glued the "daytime" activities to the white half of the paper and the "evening" activities to the black paper. I downloaded the cards from
Hubbard's Cupboard
.
Day Two:
We glued white cotton pads to blue construction paper to make clouds. Then we glued blue waves onto the bottom of the paper and sprinkled salt (dyed blue) on the bottom of the paper.
Day Three
: We painted green grass, brown trees, and orange flowers onto blue construction paper. Then we placed leaf stickers onto the tree.
Day Four:
We glued a sun and moon onto black construction paper and then covered the sky with star stickers.
Day Five
: We put fish stickers onto blue construction paper. (I didn't have any bird stickers)
Day Six
: We put animal stickers onto green construction paper. Then we rested!
Here are a picture of five of our creations-- I didn't get a picture of day six:
Jonathan really enjoyed this week and knows that God made
everything
! In fact, when we asked him about a wooden bunny his great-grandfather carved, he said that God made the bunny. It was cute- it gave us all a laugh. :)
For more Creation lesson resources check out:
Hubbard's Cupboard
ABC Jesus Loves Me