Another thing Jonathan is enamored with is sports. Although it's not football season, I figured that
football
would be of interest to Jonathan.
Books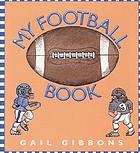 My Football Book
by Gail Gibbons
This book introduces the basics of the game of (American) football. It covers the basic rules, equipment, field, and positions of American football. The book emphasizes that football is fun to both play and watch. The illustrations show a friendly game between two different teams and features a female referee. Jonathan really engaged with this book and wanted it read several times.
Family Huddle
by the Manning family
This is about football's famous Manning family. It recounts a typical weekend during the childhood of Peyton and Eli Manning and their older brother Cooper. The boys go on a trip to Mississippi to visit both sets of their grandparents. The weekend is full of football as the boys attempt different plays. However, there isn't much of a plot beyond the different football plays. The story is stilted and awkward. I didn't really care for it. Jonathan enjoyed it though, so maybe other little boys would as well.
Touchdown! My Football Book
by Davd Diehl
This board book is a perfect introduction to football for babies and toddlers. One football related word is illustrated per page such as "helmet" and "quarterback". The bold illustrations are are very eye-catching.This is more of a concept/first word book, so it probably wouldn't hold the attention of older children. Jonathan enjoyed looking through this board book, but did gravitate more toward the stories with a plot.
Gross Motor Skills
We played with Jonathan's toy footballs (indoors) and played with daddy's football (outdoors)
Fine Motor Skills
We did a puzzle which features different balls, including a football:
Art
And we colored an "F is for Football" page from
2 Teaching Mommies
.
Web Resources
Football Unit & Printables
@ 2 Teaching Mommies
Football Printables
@ Making Learning Fun