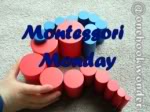 In order to help Jonathan learn how to master all the intricacies of snaps, zippers, buttons, etc. there are a couple activities we've engaged in lately:
1) Hanging daddy's clothes on our
learning tower
and having Jonathan practice snapping or buttoning or fastening the item of clothing.
2) Using our Melissa & Doug
Basic Skills board
. This is a puzzle as well as a tool for practicing basic skills. The drawback to this one is that since it is a puzzle, the pieces are not 100% stable for working on the different items. It's still a fun addition though:
3) We have a quiet/busy book which my mom made for me when I was a preschooler. Each sewn page features a different skill set. Here's an idea for a similar busy book:
We haven't mastered these skills yet, but it's good practice!
See more Montessori-inspired ideas over at
Living Montessori Now!
and
One Hook Wonder
. This post is linked up to
Montessori Monday
over at those terrific blogs.