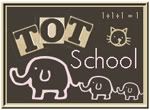 Jonathan is 33 Months
Bible
This week we read about David and Goliath-- this is one of Jonathan's favorite Bible stories! More to come on Weds...
Books & Language Arts
We read lots of books about the rainforest this week:
Over in the Jungle by Marianne Collins Berkes*
The Umbrella by Jan Brett*
Rainforest Animals by Paul Hess*
The Living Rainforest: An Animal Alphabet by Paul Kratter
The Rainforest Grew All Around by Susan Mitchell
A Walk in the Rainforest by Kristin Pratt-Serafini
(* denotes a favorite)
Jonathan worked on building rainforest words with daddy using Scrabble tiles and a free
printable
from 2Teaching Mommies. This was great for teaching how words progress from left to right:
We also did some more Rainforest pre-writing exercises too.
Art
We colored a lot of the wonderful rainforest
printables
that Carisa made over at 1+1+1=1
Games
Jonathan loves his toob animals. We have the
rainforest
set and I made a printable of Montessori nomenclature cards that features each of the animals in the toob. He had fun matching the animals with the cards:
We also played with our
BambinoLuk
. This is a great game for developing critical thinking skills. Jonathan loves it when I pull it out!
Math
Jonathan also got a new puzzle this week. It's a Kid-O
puzzle
which features different pieces from narrow to wide. It's similar in concept to the Montessori cylinder blocks, but a lot cheaper! The puzzle was fairly easy for him, but it was a wonderful platform for talking about different widths as well as color variations.
Daddy also worked with him a little bit on adding and subtracting by putting toys in a pile one by one and then taking them away. I was surprised how quickly he started to understand what daddy was doing!
Practical Life
We may have the naptime issue under control now. I've bumped back his afternoon naptime by over an hour and he's taken his naps pretty well all week. As a result, he gets to stay up a little later. One night he got to make pumpkin cookies with Mommy and Daddy! He and daddy had fun talking like the
Swedish chef
on the Muppets!
Borq Borq Borq!
Mommy's Favorite
I'm sure you all know of the
Pioneer Woman
. If you haven't seen her blog, you should! She has wonderful recipes. She has a children's book called
Charlie the Ranch Dog
that Jonathan reads at his Nana's house. Nana happened to find a stuffed animal that looks like Charlie and he has quickly become Jonathan's favorite! His full name is "Charlie the Ranch Dog" of course(but you have to hear that in two year old pronunciation-- it's priceless). Charlie goes everywhere with Jonathan. He even gets his own "bowl" of food while Jonathan eats. Sometimes Charlie is too loud at bedtime, and gets in trouble, but otherwise he's Jonathan's constant companion:

Even when Jonathan has long outgrown stuffed animals, there will always be a special place in my heart for Charlie the Ranch Dog!

See what other moms are doing with their children over at 1+1+1=1 and Preschool Corner!