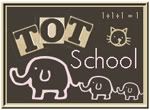 Jonathan is 36 Months
Grace is 17 Months
Well, I need to get caught up on posting! Hoped to start last week, but a round of illness hit us (high fevers, respiratory infections, ear infections, pinkeye...). My poor Jonathan was miserable! He's finally feeling better so I'm excited to start some more activities with him this coming week. :)
Here are some highlights of the last couple weeks (what little we did):
Colors- Grace and I have been trying to work on colors. Here are a few activities we've done:
I made pairs of beanbags out of fat quarters ($1 per color at Walmart). I got a new sewing machine for Christmas and they were so easy to make (I'm a sewing newbie). We work on identifying colors and matching colors with these. They're also a lot of fun to throw!
Homemade beanbags
I've also been making her "color baskets". We put several toys of the same color in one basket and talk about the colors.
Our red basket.
Books & Vocabulary-
Grace is talking quite a bit. Right now she loves finding books and curling up in our laps. She especially likes the books with pictures of everyday objects (such as Roger Priddy books). She likes pointing to the items and trying to say or repeat the names.
Cooking-
Jonathan and Grace enjoy standing in the learning tower and watching us cook. They had fun watching daddy make homemade cinnamon rolls the other day:
Art-
Grace tried fingerpainting for the first time, as well as dot painting with our Do-A-Dot Markers. They also love coloring on our new easel they got for Christmas. Grace is a sneaky one though-- she likes to walk off with the crayons and color on other objects.
Jonathan got a paint with water book for Christmas, and he has fun painting the cars:
Motor Skills-
After being cooped up, we went to our park district's open gym time. We were nearly the only ones there! It was fun and it let them get some of that energy out:
Grace was so tired by the end of the hour that she just laid down:
Thanks for visiting!
I'm linking this post up to: